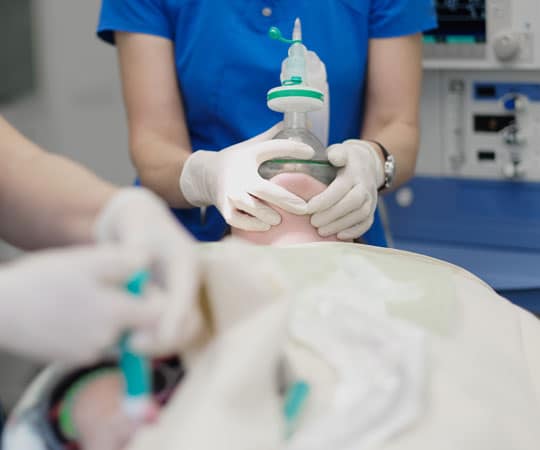 The dentist quickly identifies patients who show signs of phobia or anxiousness during a dental appointment. In these situations, the patient needs to understand that the anxiety does not only affect them. According to NCBI, researchers explain that anxiousness in the patient puts extra pressure on the dentist too. 
Sedation dentistry is considered one of the most effective options for patients with high fear or anxiety levels. Dental care is provided after a sedative is administered to the patient. The sedative helps the patient relax. 
Our clinic provides Sedation Dentistry services in dental procedures. Please read this article to get all details about sedation dentistry and contact us for complimentary consultation at no charge.
Types of Sedation Dentistry
There are a few types of sedation dentistry available for patients with a phobia or dental anxiety. The patient needs to understand all the options available to them. This helps them decide based on their anxiety level, budget, and needs.
Laughing Gas
Nitrous oxide is a safe option often referred to as laughing gas. A mask is used on the face. It generally takes a couple of minutes for nitrous oxide to affect the patient.
IV Sedation
IV sedation involves the administration of a sedative agent directly into the bloodstream. Intravenous sedation is a very effective option. This is often used when conscious sedation is required, which allows for spontaneous ventilation in the patient.
Oral Sedation
Oral sedation is another good option. This is a form of conscious sedation. The pill can cause drowsiness. This option is used for adults and children that require dental services.
How do I begin the sedation dentistry process?
The first step is to contact a dentist that offers these services. Ask the dentist about the types of sedation options the dentist offers. Then consider which option would be most appropriate for you. Book the appointment with the dentist in Bellevue, WA. You might need to fill out a few documents before the procedure.
Frequently Asked Questions
It is important to ensure you do not consume food six hours before the time of the procedure. Water can be consumed up to two hours before the procedure. It is also generally advisable to avoid alcohol use within 24 hours before the procedure is done. Make sure you have a list of medications you are currently using with you. This list should be presented to the dentist. The dentist will check for possible interactions with the sedation technique that will be used. Another important step to take while preparing for sedation dentistry is to get someone who can drive you. After the procedure, you will usually be advised not to drive yourself home.
Since there are many dentists in the area, it can be hard finding one to trust with your needs. Whether you are looking for sleep dentistry or just a low level of sedation, reading some online reviews can be helpful. This can help you find a dentist that offers dental treatments trusted by the local residents.
It is important to avoid delaying a visit to a dentist. Oral well-being can be adversely affected when a toothache is not treated. If you have anxiety or a fear of dentists, understanding sedation dentistry allows you to feel calm during the procedure.
Related Posts About Sedation Dentistry