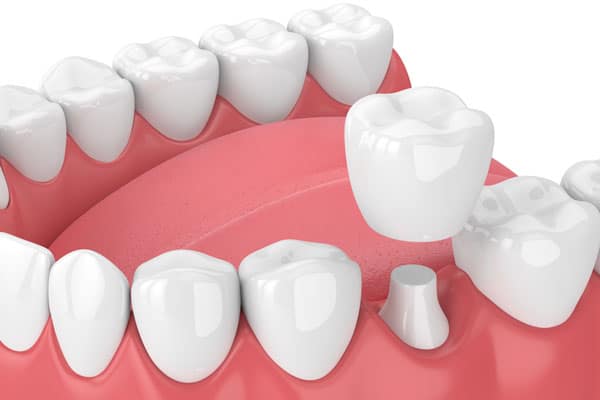 Dental Crown Treatment in Bellevue
A dental crown is not just a tooth restoration procedure, but also a great reason to smile. The process is responsible for bringing a tooth to its original shape and size. In some cases, a dental crown is also needed after root canal treatment to protect the tooth from further decay. Bellevue and its adjoining area have seen a sharp surge in cosmetic dental crown treatment during the past few years. 
We at Bellevue Azalea Dentistry, are just a call away (425 998-1809) for all your cost-effective and affordable dental crown procedures. People do not have to worry about dental crowns in Bellevue anymore with such a state-of-the-art dental clinic in the heart of the city. Not just Bellevue, but people from Medina, Newport, Redmond, and Renton have booked their appointments for their dental treatments for the next few months.
Dental crowns are prosthetic protection 'caps' that are custom-made to fit the structure of a patient's teeth. As the name suggests, when the crown is properly placed, it covers the decayed and uneven visible parts of the teeth above the gum line.
The primary function of a dental crown is to help build and improve the structure of teeth. Since they are fitted on top of a tooth, they act as a shield for the tooth against any external damage. They can withstand the impacts of activities such as chewing and brushing – thus, protecting the teeth.
Dental crowns maintain the structural integrity of your mouth by protecting your teeth and gums from the unpleasant impact of tooth decay and gaps. When a tooth breaks or there's a cavity, the chances of a food build-up increase, and you become more susceptible to infection. Dental crown procedures prevent this build-up.
Dental crowns also maintain and enhance the appearance of your teeth. Any discolored, broken, and cracked teeth can impact a person's self-esteem and make them conscious of their physical appearance. Luckily, with the help of a customized set of high-quality ceramic crowns, you can revamp your entire look while maintaining your dental hygiene.
Today, people all over Factoria, Issaquah, Overlake, and Kirkland are looking for the gold dental crown and other cosmetic dental crowns that gives them a bright good looking smile. We have conducted over XXX gold crown treatments apart from numerous standard ceramic crowns and porcelain dental crowns. There are various options of materials for crown making that you can choose from. We are here to provide you one-to-one customized solutions and treatment for your dental issues.
The prime purpose of the dental crown is to protect the damaged and uneven teeth. They cover, restore the teeth during cases where a filling is not the solution. Uses of a dental crown vary from person. At Bellevue Azalea, we make sure that we study the case before finalizing the type of crown to use.
Protect a Worn or Broken Tooth: We recommend having a crown when the tooth is worn down, chipped, or partially broken as the broken tooth is very painful, particularly during the chewing activity. Covering the area with a customized crown, you can restore the normal functioning of your tooth.
Dental Implant Covering: Temporary ceramic crown is advised to cover the dental implant treatment. It helps in replacing the missing teeth and supporting the artificial denture.
Anchoring the Bridge: We get patients from all over Clyde Hill, Bridle Trails, Overlake, and Bellevue Downtown with different dental problems having a different budget for treatment. If a patient refuses to opt for an implant, we put the crown on surrounding areas of teeth to bridge the trouble maker. Ceramic crown is used in such cases such that anchors do not move.
Overall Appearance of the denture: We also receive requests from various patients who want to hide the discolored teeth. For them, we suggest having color-matching porcelain or ceramic dental crown to give a natural look and get ready for a smiley selfie.
Root Canal Protector: When we operate on the patient for a root canal, we also suggest to have a crown over the affected area. It helps to cover the area and protects the root canal area from infection.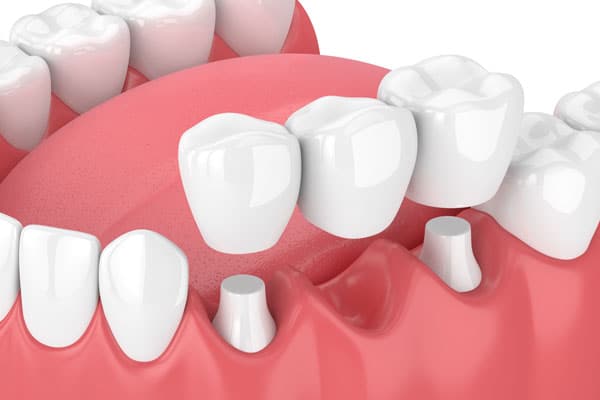 What Is The Procedure To Get Dental Crown?
The working procedure at Bellevue Alazea Dentistry is quite simple. We make sure that all necessary information prior to the dental crown treatment is recorded regarding your dental problem or any other allergy or so on. The implementation of dental crown steps in Bellevue takes place as follows.
Tooth Examination: Proper examination of your tooth is the first procedure to initiate any service. When you visit us at our Bellevue clinic, we take x-ray images of your concerning teeth and evaluate the gum condition. Our panel of doctors recommends the necessary treatment based on radiographic and visual examination.
Tooth Shaping: The process of reshaping tooth comes next. Our dentist team will shape the tooth such that the dental crown fits on top without leaving any space in between. The grinding makes the surface of the tooth even and flat.
Tooth Impression: To have the perfect shaped crown, a paste is applied over the tooth for an accurate impression. We also have a 3D scanning facility that records the 3d imaging of the tooth. These scanned data or the paste impression of the tooth are sent to the lab for creating a customized crown.
Use of temporary crown: It takes 2 to 3 weeks for the preparation of the final dental crown in Bellevue. Till then, we apply a temporary crown over the tooth to prevent it from any sort of decay or injury. Cementing is done for temporary fixing of the crown. You would be given an appointment for your next visit.
We serve different types of dental crowns at our Bellevue Azalea Dentistry to all our esteemed patients. One may want a crown over a molar that is hardly visible, while others want to have a crown for their front teeth with matching colors of surrounding teeth. There are several factors that plan a role while selecting the crown. Depending on its durability, strength, and the cost, dental crowns at Bellevue are made of different materials. The following are 4 main types of dental crowns.
Stainless Steel: Stainless Steel crowns are used for temporary solutions as they hold the teeth for the duration while the actual final crown is in the manufacturing process. We suggest these crowns for pediatric usage as well because they come off easily as the natural teeth grow.
Metals: Metal crowns are made of the most robust material and can withstand a tough biting impact. They don't chip or break easily. They're available as alloys of aluminum and gold but are also quite expensive.
Porcelain/ceramic: These are the most common crowns. Porcelain crowns and Ceramic crowns also come along with metal infused within for better holding of the crown. Our AI-based machinery gives the perfect shape and color needed to the crown.
Zirconia: The trend for Zirconia crowns is very popular in Bellevue. It provides the aesthetics of porcelain crowns associated with metallic strength. Most importantly, they can be cut and shaped at our Bellevue Dentistry itself, so that you do not have to wait for weeks.
LET US HELP PROVIDE BEST DENTAL CROWNS
Dental Crowns are completely safe and prevent permanent bone loss in your teeth. Dental crowns help you get a beautiful smile.
FREQUENTLY ASKED QUESTIONS ABOUT DENTAL CROWNS
No, dental crown treatment is not painful. However, the little uneasiness associated is worth the result. Our specialist dentist at Bellevue Azalea Dentistry tries their best to keep the entire process smooth and pain-free as much as possible.
With the help of local anesthesia, the tooth is numbed so you do not feel the pain at all. Once the procedure is done, with time, the effect of anesthesia dies out, and you may feel a bit of sensitivity with the presence of a temporary crown. Do not worry. The pain would be minimal and won't last long. In case of any discomfort later on, you may simply give us a call at (425) 998-1089 and talk to us. We would be there to guide you.
A dental bridge is used to close the gap created by one or two missing teeth by providing a bridge between them. It is generally made up of 2 or more dental crowns. The side teeth act as anchoring teeth to fit the bridge. We suggest having a dental bridge for our patients when there are a series of teeth missing. Moreover, It only takes 2-3 appointments for the entire procedure to get complete.
We make understand our patients about the difference between the dental bridge and dental implant. A bridge generally needs replacement every 5-10 years depending on the dental care and dental hygiene, you follow. Whereas, dental implants are a permanent solution.
Be it a patient from Kirkland, Medina, or Renton, one question that bothers almost all is the cost involved in the dental crown. We have customers from all of Bellevue and surrounding areas. It's not just that we deliver the best result, but also that we complete the process at the best reasonable price.
Dental crown generally ranges anywhere from $800-$1700 per piece. The price depends on the material of the crown and the complexity of the procedure. It is quite obvious that gold crowns are costlier than ceramic or porcelain crowns. Before finalizing the one, check with your insurance once. Some insurance companies cover only the partial cost involved for dental procedures, whereas new policy provides the entire chargeback.
Well, it depends on how you treat them. On average, dental crowns easily lasts for 10-20 years. Even though they are exposed to various risks of fracture, infection, and cavities, with proper dental crown care and crown hygiene, it will last longer.
After the procedure, we give proper instructions and a to-do checklist about dental crown care to our patients. It focuses on the way of brushing near the crown, flossing, and also how hard or smooth to gargle. Our expert opinion and care guide will not lead you to any trouble.
A dental crown is essentially a shield, or cover, for a damaged tooth. Not only does a dental crown have many health benefits, such as allowing you to chew properly, it can also help you become more comfortable with your physical appearance. 
When it comes to choosing a dental crown, there is no one right answer. Different types of crowns will suit different kinds of people. The best way to choose a dental crown is by visiting your dentist and looking through all available options to find the one that suits you best. 
RELATED POSTS ABOUT DENTAL CROWN