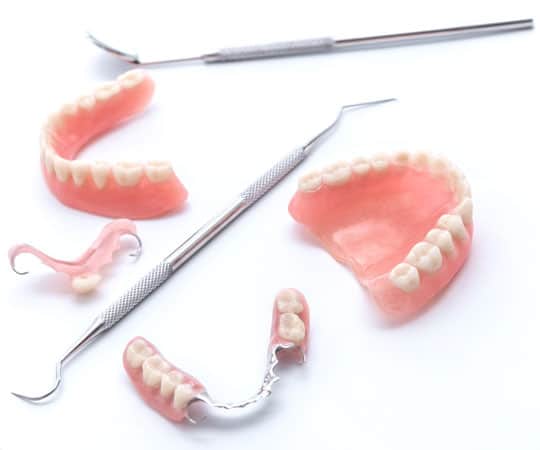 Which Material Do Dental Professionals Recommend for People for Dentures?
There are a wide variety of materials that can be used to make dentures. Some of these materials are composite resin, porcelain, and acrylic resin. These different materials for dentures display varying features. 
Porcelain and acrylic are the most common materials used by many dentists to create dentures for patients. This article has information on Porcelain and acrylic materials. You might want to find out more about dentures if your dentist is considering making custom dentures for you.
Porcelain Vs. Acrylic - What is the Best Material for dentures?
The material used to make your dentures is one of the most important things to consider when getting new dentures. It is an important factor that will determine how long it lasts and how comfortable it is. Different types of dentures are made up of different kinds of materials. Partial metal dentures, for example, are made up of an alloy of chromium and cobalt. Dentists popularly recommend acrylic resins. Porcelain materials are also a popular choice. If you find that you can't decide on one, you need your dentists to assist you. Your Bellevue dentist can help you make a more informed decision by giving you professional advice on which material is best suited for you.
some of the ways in which porcelain and acrylic teeth differ
Durability
Porcelain is more durable than acrylic if you want to consider long-term resistance to wear and tear. This is because the material is harder and more able to withstand use. Porcelain generally has more strength and durability than acrylic.
Acrylic doesn't easily get damaged like some other materials. Even though it is not so durable, it is less prone to short-term damage.
Bonding
The acrylic helps the teeth to be bonded to the denture base. Acrylic is commonly chosen for its superior ability to adhere securely to the base of a denture.
Porcelain cannot be bonded to an acrylic denture base. This can pose a problem in some cases because it reduces the strength of the teeth attached to the base.
Bone loss
The kind of material used in dentures matters for people who have bone loss. Porcelain dentures have been known to put pressure on the gum and jaw. Most dentists will recommend acrylic dentures for those patients who are suffering from bone loss.
Oral Hygiene
It is easier to maintain good oral hygiene with porcelain dentures. The reason is that porcelain dentures have a hard surface that doesn't allow bacteria to flourish easily. Porcelain dentures are also easier to clean.
Acrylic dentures aren't so easy to clean. They have very tiny indentations, and these can be great sites for bacteria growth.
Staining
Porcelain and acrylic are both resistant to staining. Fortunately, the two materials do not stain easily. There is no significant difference in the level of their resistance to staining.
Price
There is no significant difference between the prices of the two dentures based on the material they are made of. Many patients consider the price of their dentures before getting them. That is good, but since there isn't much difference between the prices of the different dentures, there is no need to get worried over the price difference.
Contact Bellevue Azalea dentistry to get your custom made dentures. At our Bellevue office, Dr. Uparika Sharma, a trusted dentist, will be there to handle your dental issues. Dr. Uparika Sharma will be more than happy to help you make an informed decision on what material to make your dentures with.
Call us at 425-998-8109 to learn more or walk into our Bellevue office to begin the process.