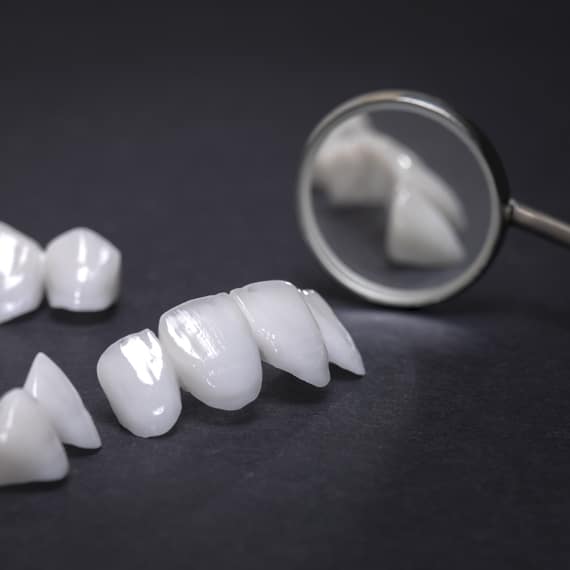 What are No Prep Veneers?
Dental veneers are thin, shell-like restorations composed of high-quality laminate or porcelain material. Many patients are interested in no-prep veneers since the treatment doesn't require anesthetics or enamel reduction. Patients may experience effective results with no-prep veneers without affecting any underlying tooth structure. This significantly reduces the amount of time spent in the dentist's chair. 
Your dentist will make an impression of each tooth during your appointment and then personalize the form and color to match your natural teeth. When your no-prep veneers are finished, you will be notified. When you're ready, you may return to have them bonded and fitted to each tooth.
Benefits of no-prep veneers
Here are a few reasons why no-prep veneers can be a suitable option for you:
Less prep work
A cosmetic dentist may need to remove 1/2 millimeter of enamel from your teeth to create an impression for the veneer with traditional veneers. With no-prep veneers, this isn't required. There isn't much needed prior work. In rare situations, a dentist can take a virtual impression of your teeth then fabricate and implant veneers on the same day.
Improved result
No-prep veneers can enhance the look of discolored teeth, fix gaps, and hide cracks and chips.
Easy installation
Since cosmetic dentists don't have to reshape or alter your teeth, the installation process is more straightforward than regular veneers. According to NCBI research, this procedure may even protect your tooth structure.
No anesthesia
You may not require a local anesthetic because the dentist will not be scraping any enamel from your teeth. That's a massive advantage if you're worried about having a reaction or becoming sensitive to the anesthetic.
Long-lasting
If properly cared for, no-prep veneers may last for 5 to 7 years or more. They may also be an excellent option for patients who don't want to put too much strain on their healthy teeth.
There are several options for no-prep veneers. Speak with a cosmetic dentist about the different available kinds and which ones may be appropriate for your teeth.
Lumineers
Lumineers are ultra-thin (0.33mm thick) and may be indistinguishable from your natural teeth. 
Durathin veneers
DURAthin veneers are a type of porcelain veneer attached directly to the front of the teeth.
Vivaneers
Vivaneers are another kind of no-prep veneers that are incredibly thin and firm. They are 0.33 mm thick, just like Lumineers.
No-prep veneers procedure
Here's what you may expect throughout the procedure:
Your dentist will examine your teeth to ensure that their structure is intact

Your dentist will take impressions of your teeth

The impressions will subsequently be used to create the veneers

The veneers will be held up to your teeth by the dentist to ensure a proper fit

Your dentist may slightly scrape or etch the surface of your teeth to provide a foundation for the veneer

lastly, the veneers will be attached to your teeth
Not Every Patient Is a No-Prep Veneer Candidate
Even though no-prep veneers are the right choice for many smile makeovers, they may not be appropriate for every patient. It may be hard to utilize no-prep veneers without proper planning. Here are some basic requirements:
Veneers as thin as 0.3 mm can thicken and lengthen your teeth. Without preparation, veneers might make your teeth appear more prominent or bulkier unless you have little teeth.
When a tooth is crooked, a part of it protrudes. After gluing a veneer to a tooth, a cosmetic dentist may trim it back to get a beautiful outcome. A veneer may cause the tooth to protrude even more if it is not trimmed correctly.
Sometimes, if a tooth is not well prepared, a hump may appear when the porcelain begins after the dentist binds a veneer. You may expect a tiny protrusion at the top of all your veneers if the border between the veneer and the tooth is not seamless.
No-prep veneers might be a decent solution to improving the appearance of your smile. For your smile makeover, a dentist will apply these thin shells, which are often composed of porcelain or a composite material, to the front of your teeth. They help conceal chipped, discolored, cracked, or damaged teeth. No-prep veneers are fitted through a quick procedure to make your teeth look more even. They need relatively little time and effort to install and produce long-lasting benefits. 
However, before making a decision, you may need to consult your cosmetic dentist about all of your options. You may also want to consider factors like the health and condition of your teeth, as well as your budget. Like many other dental procedures, the cost of cosmetic dental treatments may vary. If you have dental insurance, you may contact your provider to see if the price of veneers is covered. Several insurance policies may exclude cosmetic dentistry services.
Frequently Asked Questions
Are No-Prep Veneers Reversible?
Yes. No-prep veneers do not necessitate any alterations to your tooth structure and are easy to remove. Because they are glued to the enamel of your teeth, they may cause some surface damage during removal.
What Are The Precautions And Potential Side Effects Of No-prep Veneers?
Before you decide to have no-prep veneers, here are a few things to think about:
If your teeth are severely damaged, no-prep veneers may not be the ideal option for you. To give your teeth a more uniform look, you may require more thorough treatment.
The same is true if your teeth are discolored. No-prep veneers are more transparent than standard veneers. To conceal the stains, you may want something sturdier than the thin shells of no-prep veneers.
You need to pay special attention to your dental hygiene. Cleaning your teeth after having no-prep veneers may require extra care. You need to gently brush around your gum line to eliminate any germs or food remnants that may be lodged where the veneers meet your gum line.