What are Invisalign Braces?
Do you desire a more confident smile but doesn't like the idea of wearing metal wire braces? Say no more. Invisalign braces is exactly what you need.
Invisalign Braces belong to a novel category of orthodontic appliances called "Clear Braces Aligners" which are transparent and custom-made from BPA-free plastic material. These aligners are used as a stealthier alternative to metal braces in the adjustment of mild to moderate dental structural abnormalities such as overbite, underbite, overbite, gapped teeth, overly crowded teeth, etc.
Prior to the advent of clear braces, orthodontic teeth alignment treatments required the use of metal wire braces featuring metal brackets supported by an arch wire strung around the teeth. Although quite effective, these metal braces were uncomfortable and lacked discretion, to say the least. Thus, patients undergoing orthodontic treatments had these fixed wire braces on their teeth for 16 to 24 months, with the associated personal, social and occupational inconveniences. This egregiousness impeded and aborted a great number of orthodontic treatments.
In 1997, the inventor of Invisalign, Zia Chishti, had a eureka moment during his own orthodontic treatment. He thought, "what if we use clear plastic instead of metal wires to produce braces?" Soon after, Invisalign braces were born.
How Does Invisalign Work?
Basically, following consultation and diagnosis, a qualified orthodontist will take 3D impressions of your teeth and modify it using a software to the desired orientation agreed upon by you two. Next, a series of virtual models between the existing and endpoint dental alignments are printed out using a special plastic material. These printouts are your custom-made Invisalign braces which your dentist will give to you, usually 3 to 4 sets at a time.
You will be instructed to wear these Invisalign braces aligners in stages, normally for 2 weeks for each set, until the final desired results are achieved. The braces are to be worn for 20-22 hours a day. Unlike metal wire braces, Invisalign braces can be removed when you want to eat, drink anything other than water, brush or floss. Consequently, Invisalign comes with almost no dietary restrictions due to the provision for proper dental care.
Similar to metal wire braces, Invisalign braces work by placing some pressure on the teeth, encouraging it to slowly move in the desired direction. The sustained pressure loosens the tooth, causing new bone to grow in and support the tooth in its new position. All people see is the stunning end result.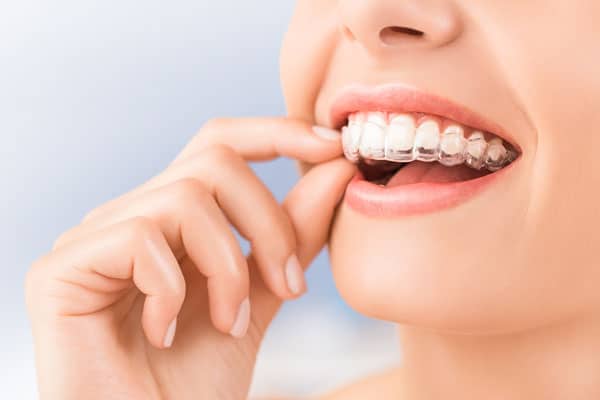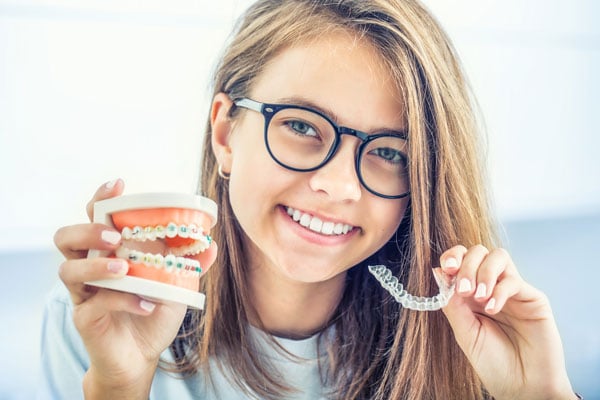 How Long Does Invisalign Therapy Take?
The orthodontic therapy with Invisalign braces takes between 12 to 18 months on average, depending on the severity of the patient`s dental misalignment and their willingness to keep the braces on for up to 22 hours daily. Failure to do so will lead to treatment extensions in order to reach the desired endpoint.
How Many Sets of Invisalign Aligners will I end up Needing?
The aligners/braces usually come in pairs, one for each jaw. Orthodontic patients will usually need multiple sets of braces, each pair achieving a certain degree of alignment. On the average, a typical patient might need anywhere between 20-30 sets of aligners. Depending upon the complexities involved some cases may need either as few as 10 or as much as 50 sets of aligners. Each case is unique.
What are the Different Types of Invisalign Treatments?
Depending on the orthodontist`s evaluation of your dental condition, he/she will recommend the most suitable option from the Invisalign product range which includes:
Invisalign Full: This is the original product introduced in 1997 as a more discreet alternative to the traditional metal wire braces. It is capable of correcting a wide range of mild to moderate orthodontic issues, and even a few complicated cases. A complete treatment course takes about 12-18 months.
Invisalign Express: This option is used for relatively milder orthodontic cases for which the Full treatment would be an unnecessary overkill. Two versions of this treatment are Express 5 (requiring 5 sets of aligners over a 3-month period) and Invisalign Express 10 (requiring 10 sets of aligners over a 6-month period).
Invisalign i7: This option is available for patients with alignment issues resolvable over a period of as little as 3 months with 7 aligners. It is ideal for patients hoping to address minor flaws in dental appearance.
Invisalign Lite: this option was developed to fix mild to moderate teeth alignment issues over seven months.
Invisalign Go: This is a specialized treatment for patients who wish to correct alignment issues pertaining to their front ten teeth. It involves the use of up to twenty aligners.
Invisalign Teen: This treatment option is available with peculiar tweaks and benefits for teens with teeth alignment issues.
FREQUENTLY ASKED QUESTIONS
LET US HELP PROVIDE BEST Invisalign Braces
Invisalign Braces are completely safe and prevent permanent bone loss in your teeth. Help you get a beautiful smile.