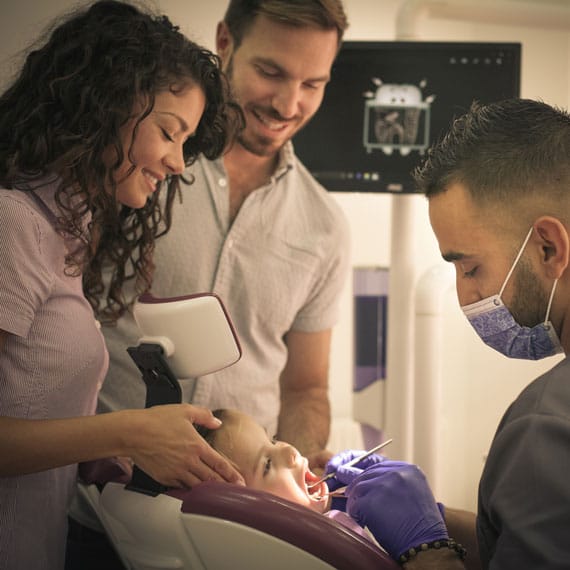 What to Expect at Your Family Dentist Visit
A trip to the dentist does not have to be unpleasant. Dentists and hygienists want to help, so they'll typically do everything they can to make your appointment as painless as possible. It is advisable to select a family dentist with whom you are at ease. Once you've found the ideal dentist, you may arrange a consultation to ensure that no difficulties occur. 
Dental health is a vital part of your general health and well-being. Dental cavities and gum disease can be caused by poor oral hygiene. Keeping your teeth and gums healthy is a continuous effort. The sooner you develop good oral hygiene practices, the simpler it will be to avoid costly dental operations and long-term health problems.
A thorough health history will be taken on an individual's initial appointment to a family dentist. If a patient's health state has changed, the dentist might be updated on subsequent appointments. A lot of dentist visits are routine checks. Periodic checks will help your teeth live longer, fresher, and avoid the development of various issues. An NCBI study found that going to the dentist regularly is connected with improved oral health outcomes. As a result, current oral health campaigns may strongly encourage frequent dental visits. Other things that happen during a dental visit are as follows.
A thorough cleaning
Dental checkups usually entail a thorough cleaning.The dental hygienist will scrape beneath your gum line with special equipment. This will aid with the removal of plaque and tartar, which can lead to cavities, gum problems, halitosis, and other difficulties. Flossing and polishing the teeth may also be performed by the dentist or hygienist. You may notify the hygienist if your jaw aches or if they have mouth discomfort during the procedure. The longer you wait between dental appointments, the more calculus forms around the gum line and on the teeth. Even though tartar removal might be painful, the smooth and clean feeling of your teeth afterward is well worth it.
A full examination
A dentist will thoroughly examine your mouth, teeth, and gums. This enables the dentist to search for disease symptoms as well as potential issues. A dentist's mission is to assist in maintaining good oral health and avoid issues from exacerbating.
X-rays
X-rays may be recommended by a dentist based on a patient's age, indications, and disease susceptibility. X-rays can detect numerous disorders that would otherwise go undiscovered, including impacted teeth, cysts or tumors, infections, jawbone deterioration, and decay between the teeth. A Panoramic X-ray may be required by a dentist. This film type captures a comprehensive view of the lower and upper jaws in a single image. It can assist the dentist in understanding the relationship between the arch and the various teeth. Sometimes,  a patient may be asked to have X-rays once a year or so to discover abnormalities that are just developing or are difficult to notice.
After Your First Appointment
It is recommended that you use prescribed pain medicines if your mouth is hurting. If you have any more concerns or are suffering from pain or discomfort, you may call your dentist between scheduled appointments.
Follow-up Care
Although your mouth may be in good health, you still need to undergo a washing and checkup every 6 months. Based on what the dentist discovers during your evaluation, they will propose a treatment regimen, beginning with the most critical care. Fillings may be required to seal cavities in the teeth before they get bigger. For more severe decay, crowns wrap and conceal the injured tooth's core, preserving the root in place. This "cap" is glued in position to seem and feel authentic. Cosmetic cementing, veneers and shaping can all be used to enhance the appearance of fractured and stained teeth.
Scaling and root planing clean the surfaces of the teeth underneath the gum line. This allows the gums to thicken up around roots and begin the healing process. X-rays may be required every 6 months to monitor your development. If your dentist discovers infection or swelling in the roots of your teeth, you may require a root canal. This procedure entails opening the tooth and cleaning the interior then closing it again. You may see an endodontist for this.
Your dentist may advise you to replace any broken or severely damaged teeth with implants or dentures. Implants are titanium screws that are inserted into your jawbone and serve as dental anchors for crowns. Unlike removable dentures, these long-term implants are fixed in situ. They look and function exactly as your natural teeth. 
Once you see your family dentist, you may get more than just gleaming white teeth. A dental appointment may include a complete cleaning as well as a comprehensive examination of your mouth, teeth, and gums. Regular dental appointments are crucial because they allow your dentist to eliminate dental disease and look out for different signs and symptoms. Any issues will be addressed before they worsen. Because your dental health is an important component of your overall health, you may set up a regular schedule to see your family dentist. Our objective at Bellevue Azalea Dentistry is to give you a healthy smile while also making your dental appointment as soothing and pleasant as possible.
Frequently Asked Questions
If you're not sure how to prepare for a dental appointment, here are a few pointers:
If the dental clinic hasn't previously contacted you, phone the day before your appointment to confirm the time.

Ensure your dentist has direct access to your dental records.

Bring your prescriptions with you, or note down the names of each, as well as the dose and frequency of administration.

You may check with your dentist ahead of time to see if you need to clean and floss your teeth before your visit.

If you aren't just getting a standard check-up, meet with your dentist to discuss your upcoming dental operation.