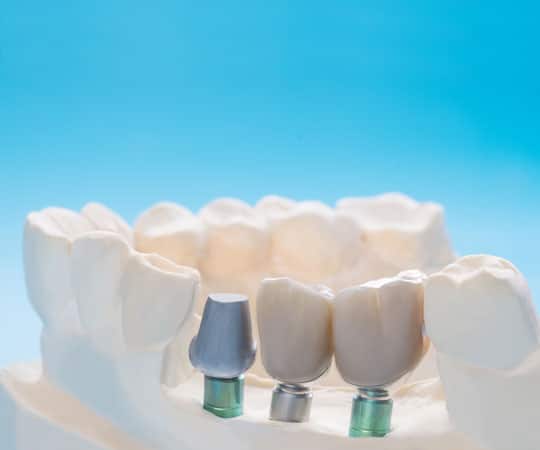 Replace Missing Teeth with Dental Bridges
Dental bridges are often used to close the gap in your smile. These gaps are usually caused by missing teeth which can negatively impact the appearance and health of your smile. At Bellevue Azalea dentistry, we've seen how good using dental bridges to fix the gap in their teeth is. It has helped to improve their confidence and ability to chew and speak properly.
Dental bridges are made of porcelain because they are durable and strong, also resemble natural teeth very much, giving the patient's new teeth a natural look. Either natural teeth or dental implants can support dental bridges. Dental bridges might be the solution for you if you have missing teeth.
How do dental bridges work?
A dental bridge is a tooth restoration method consisting of one or two false teeth suspended between two dental crowns. The crowns on either end are called abutment teeth. The abutment teeth work by anchoring the dental bridge to the natural or artificial teeth. The dentists will need to reshape the existing teeth so that the crowns can be comfortably placed over them. If you are using dental implants, there will be no need to have your existing teeth reshaped. This is because dental implants are already replacing the entire missing teeth.
Dental bridges connected to natural teeth
Fixture must be cemented to the teeth on either side of the gap for dental bridges to be connected to natural teeth. The dentist will need to file down the old teeth first to connect the dental bridges to your natural teeth properly. The pontic must be cemented to each crown to connect the dental bridges to the natural teeth. The pontic is another name for a false tooth.
Few patients do not like the teeth on both sides of the gap fitted with a dental crown. We may have to recommend a Maryland bridge. It is much easier to use the Maryland Bridge.
Implant-supported bridges
Implant-supported bridges are quite similar to regular dental bridges. The major difference is that it is supported by dental implants on either side of the bridge. Implant-supported dentures are ideal for situations where the patient has multiple missing teeth.
The implants will be placed for the procedure, and then the bridges will be placed over them after the implants have healed properly. Implant-supported bridges do not need support from your healthy, natural teeth. This is not the case with traditional bridges.
Is a dental bridge or an implant a better solution?
Dental bridges and implants are excellent tooth replacement options. Dental bridges are more often used to bridge the gap between your teeth, but implants work very well to replace missing teeth too. The two options have their advantages. Dental implants place less burden on the surrounding teeth. Dental implants also promote bone structure while improving the health of your gums. You should have a conversation with your dentists to help you make the right choice.
We've seen patients get bridges for a lot of reasons. Dental bridges can help you chew and speak properly. They can also restore your confidence. Visit Bellevue Azalea dentistry to find out how you can start replacing your missing teeth with dental bridges. Dr. Uparika Sharma, one of the leading dentists, will help you complete your missing teeth when you visit our Bellevue dental office.