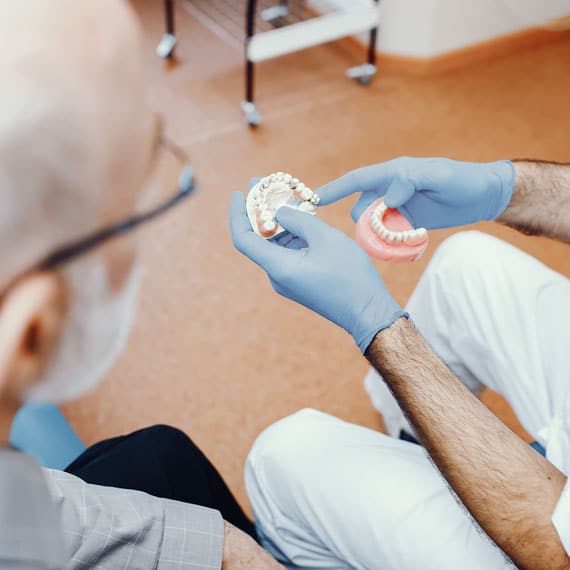 Dentures are custom-made artificial teeth that replace missing teeth. Dentures are frequently made of acrylic, nylon, or metal. They may be used to replace one tooth, multiple teeth, or whole dentition, and they fit perfectly over your gums. When done correctly, dentures give various advantages, including improved speaking, eating, and self-confidence. It may also aid in keeping your face from drooping with time and safeguard your dentition.
You may have lost your teeth or had them pulled due to a disease or an accident. If you have this condition, dentures may help you regain your smile. But the thought of obtaining dentures may frighten some people. Although they may be uncomfortable to use at first, this prosthesis may help restore complete oral function. At Bellevue Azalea Dentistry, we usually make personalized dentures to fit patients' teeth perfectly. You may visit our dental facility to acquire your new dentures. However, there are a few things patients may need to be aware of before having dentures.
Different Types of dentures
Dentures are mainly classified into two types: 
removable or detachable dentures 

implant dentures
A more conventional option is removable dentures. This kind of denture needs to be removed before bed. They are made up of a gum-colored acrylic foundation and prosthetic teeth, often formed with metal wrapped in plastic. They look like your natural teeth and may be used to eat a variety of meals, from soft to more solid foods. This prosthesis may also enhance clear speech and restore the patient's smile.
On the other hand, implant dentures are not detachable since they can be directly screwed into the jaw. All dentures must be fitted to match your teeth' shape, size, and color. The fitting may be performed by either a prosthodontist or a regular dentist.
The process of receiving dentures
Before fitting the prosthesis, the dentist may discuss different possibilities with the patient. This procedure may be the appropriate option for patients who have lost all dentition. Their dentist may also recommend dental implants. A dental bridge might be an alternate option for partial dentures. The process of receiving dentures may be daunting, but our dentists at Bellevue Azalea Dentistry may make the transition as seamless as possible. To replace your lost teeth and restore your smile, we will create custom-fitted dentures for you. The following steps are likely to occur during the fitting of your dentures:
The initial step is for the dentist to inspect the patient's teeth and assess the patient's overall oral health. During this evaluation, the dentist will look for issues that might impede the operation, such as:
dental decay 

indications of infection

prior dental work
They may also look for more teeth that need to be extracted before installing the dentures.
Following the examination, the dentist will obtain a teeth model and dimensions. This allows the dentures to fit perfectly over the remaining teeth. They may then forward this information to a lab where your dentures will be fabricated according to the requirements.
After building your dentures, you will be invited for a fitting to check that the new dentures function perfectly. During this session, they may also make any required changes to the dentures.
Challenges of wearing dentures
The foundation will be precisely on top of the gums. Because this prosthesis may hurt the mouth, some patients may develop blisters on their gums. Also, the prosthetic teeth may fall out of the mouth whenever the patient speaks, laughs, or eats. This apparatus may cause mild discomfort or irritation in the gums during the first few days or weeks.
Getting accustomed to the artificial teeth
Though there may be no discomfort, adjusting to dentures may take time. It may take some time for the patient to adapt to eating and speaking with the new dentures. But eventually, they may have the same capability and dexterity as if they had natural teeth. After a few weeks, you may not even sense the prosthesis in your mouth. Start with softer meals like yogurt, omelets, or potato salad to aid the transition. Eating small portions keeps the dentures in place and allows you to chew correctly. Biting with the rear teeth is also a good idea. We usually encourage our patients at Bellevue Azalea Dentistry to take proper care of their new dentures. Regularly brushing and rinsing your teeth is essential. Each night, you may soak them in a solution. We also advise using caution when removing and storing the prosthesis.
Continue your regular lifestyle
Using dentures may necessitate certain modifications. This adjustment, however, does not have to affect your lifestyle. On the bright side, you may resume social activities without being self-conscious about your smile or looks. If you're experiencing problems adjusting to your new dentures, make an appointment with your dentist.
Frequently Asked Questions
How Long Does It Take To Get Used To Dentures?
It might take up to 30 days to become acclimated to dentures. You may not like to wait this long. But you may need to exercise caution while attempting to return to normalcy as quickly as possible. Your gums and other soft tissues need to become used to the root of your artificial teeth. Even though the denture fixative may give some padding, you may feel some pain as you adjust to your new denture.
Dentures obtained from a dentist will be specially made for your mouth. But it may take a while before you're entirely comfortable with it. Proper dental hygiene is required for new dentures to last long.