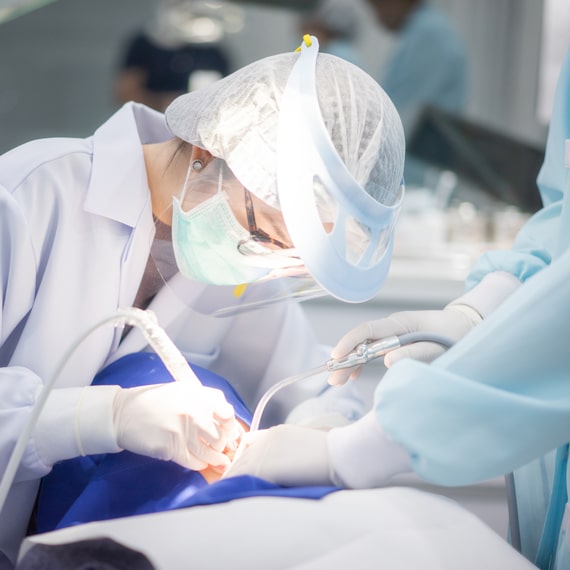 General Dental Procedures
General dentistry is usually your first layer of protection against dental health issues. General dentists typically administer preventative care and basic repair and restorative therapy. However, they can also perform various dental treatments, including cosmetic procedures. If you require any kind of general dentistry services in Bellevue, you may visit our clinic. All general dental care treatments are available at Bellevue Azalea Dentistry.
We are a general dental clinic and a family dentist and a pediatric dentist. To avoid costly emergency dental procedures, it is necessary to take proper care of your overall oral health. Several insurance plans offer routine dental services at no cost to customers. 
Preventative treatment assists you in maintaining good dental health by preventing oral diseases. Regular checkups, including diagnostic imaging such as x-rays and expert dental cleanings, are essential preventive measures. Your general dentist may give you thorough recommendations to enhance your at-home oral hygiene. He or she may also propose preventive procedures such as sealants if necessary. Your dentist may recommend a custom-made mouthguard if you lead an active lifestyle. Here are some preventative treatments your general dentist may provide:
Some patients dread teeth cleanings. It's easy to understand their concern, given the poking, unusual noises, and occasional jaw soreness. However, for many patients, a tooth cleaning is straightforward and pleasant. Knowing precisely what is going on during the procedure may help relieve tension and let you enjoy the outcomes to the fullest. Deep cleaning is a procedure that involves removing cementum that has been permeated with calculus, toxins, or microorganisms. After the procedure, the exposed surface of the roots may be smoothed. This may help prevent tooth decay and gum disease.
At Bellevue Azalea Dentistry, we use modern dental X-rays to give you a comprehensive oral health report. However, we only employ low-level radiation x-rays. Furthermore, we will assess your existing dental care practices, such as how often you floss and clean your teeth. Following that, we'll advise you on the most acceptable treatment options and make recommendations to help you attain maximum dental health.
A comprehensive dental checkup allows dentists to inspect your gums and teeth. It also helps your dentist in evaluating the present procedures you are using. As a result, your dentist may provide treatment options to protect you against various forms of dental ailments. Generally, we recommend getting a dental exam every six months. However, you may contact our staff or your dentist to know how frequently you need a dental checkup.
If your dentist discovers a dental issue, he or she will ensure that you receive prompt and suitable treatment. An effective dental repair comprises the removal of tooth decay and the placement of a filling in the afflicted tooth. However, that is not the only restorative technique offered by general dentists. They may also refer you to a specialist if you require immediate care for dental trauma, such as a broken or dislodged tooth.
Decay and disease
General dentists can detect cavities and other oral disorders before they trigger severe symptoms and lead to more severe disorders. The earlier you seek treatment, the higher your chances of reversing and avoiding the early stages of dental decay. If a cavity is addressed before it causes discomfort, you may not require extensive therapy. Cavity treatment is determined by the severity of the cavity and your specific scenario. Treatment options may include:
Fluoride therapy

Fillings

Dental crowns

Root canal therapy

Tooth extractions
Tooth loss
General dentistry encompasses diagnosing, preventing, and treating most oral health and dental trauma issues, including tooth loss. General dentists can help avoid tooth loss through preventative measures such as frequent cleanings and restorative procedures like root canal therapy. However, tooth loss might occur regardless of how hard you try to avoid it. When this happens, general dentists can replace lost teeth with complete or partial dentures. Some dentists may also recommend dental implants and implant-supported dentures.
General dentists provide a variety of cosmetic treatments to help you get the gleaming smile you've always desired. Teeth whitening, cosmetic bonding, and even porcelain veneers are examples of these cosmetic procedures. You may talk to your general dentist about a smile makeover if you want a brighter smile.
Alignment treatments
General dentistry provides several teeth alignment procedures and orthodontic treatments that might help achieve a beautiful smile. Besides increasing confidence and self-image, a beautiful smile also has incredible health benefits. When teeth are misaligned, they can have some negative consequences like:
speech impairments, 

excessive plaque accumulation, 

the growth of germs and other gum-related disorders, and 

the danger of infection or jaw strain.
That is why children need to get their teeth evaluated for orthodontic disorders early on.
General dentistry provides a wide range of dental procedures, including cosmetic treatments. General dentistry also covers minor dental treatments such as:
cavity excision, 

root canal therapy, 

dental crowns, and 

cleaning.
Because each patient is unique, their demands may differ. So if you have any specific needs, it is better to check with a general dentist. A comprehensive examination will aid in determining what sort of treatment plan is appropriate for you.
Frequently Asked Questions
What Is The Easiest Dental Procedure?
Teeth may get damaged in a variety of ways. Most of them aren't unpleasant, but they may have an impact on your health and quality of life. Fortunately, dental procedures have been refined over many years, making most adjustments simple. Here are some examples of simple dental procedures:
Replacement of the crown and bridge

Teeth discoloration

Misalignment

Fillings for cavities

Repairing a chip

Gingivitis therapy
How Long Is Your Mouth Sore After An Extraction?
Your gums will begin to mend and shut around the removal spot within 3 days following your tooth extraction. Finally, 7-10 days following your treatment, the gap created by your pulled tooth may be closed. Also, your gums may no longer be sensitive or inflamed.