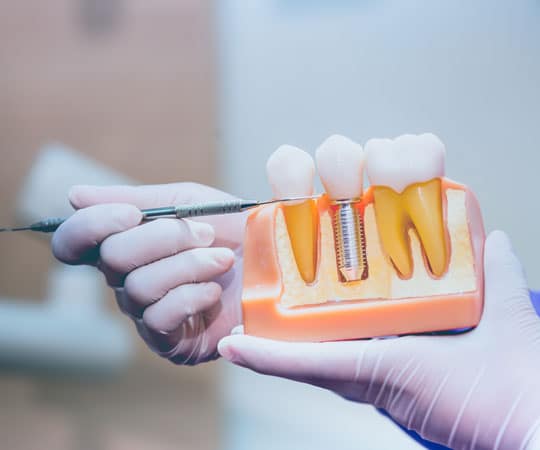 What to Expect During Your Dental Implant Procedure
If you have a couple of missing teeth and have been looking for a solution, you may have come across the words Dental Implants. More people are opting for implants as opposed to traditional dentures, crowns, and bridges. 
There's a lot involved in getting dental implants. Before you get a dental implant, you need to be well informed. It's a big step, and it involves a commitment of time on your part.
Dental Implant Steps: What to Expect When Getting Implant Surgery
You should expect to invest a couple of months into the implant process, including healing periods between the different stages. These dental implant steps will give you an idea of what to expect.
Initial evaluation
A dental implant procedure is a sensitive procedure, so you can't have one without a proper evaluation by your dentist. If you come to our office, Dr. Uparika Sharma, a trusted dentist, will need to assess thoroughly before proceeding with your dental implant. A dental evaluation will be conducted to check your jaw's condition and determine the correct dental implant procedure for you.
This is the best time for you to discuss your expectations and concerns with your dentists. Extra consultations might also be done.
Tooth extraction
If there is any tooth remaining, it will be removed before the implantation is done. Your dentist will discuss the types of anesthesia to numb the pain, but generally, Novocaine or lidocaine will be used for that purpose. After the anesthesia is administered, any small tooth in the area will be pulled out.
The anesthesia will help, and you'll only feel a slight tug and pressure instead of intense pain. After the tooth extraction, avoid excessive spitting, blowing your nose, and smoking, as these actions can create a dry socket and cause you pain.
Inserting the dental implant and bone grafting
The two main types of implants are the one that is inserted into your jawline and the other that goes under your gum line.
If your jaw is already powerful, you might not need an extra bone. This bone is needed to protect the implant. The jaw needs to be strong to withstand the pressure from chewing and all.
A weak jaw means that extra bone will be needed for the procedure. This one has to be gotten from another area of the jawbone that is far away from the site where the implant is meant to be located. If you have a graft in your case, you have to allow it to heal first. After the healing process, the implant can then be added by the dentist.
Abutment placement
The abutment is a dental piece that is used to connect the implant to the dental crown. It is placed after the dentist has decided that the implant is stable enough for the next step in the procedure.
Local anesthesia will be administered to that area so that you won't feel pain when it's time to get the abutment tightened. Finally, the dentists will add a healing cap. This healing cap is to prevent tissue and bone from growing over the abutment.
Adding the placement crown
This is the part where the dentist installs the artificial tooth or crown. You can decide on it to be temporary or permanent. You can always remove the temporary implant, but the permanent one is fixed in place either by being crewed to the abutment or held down by cement.
Other things you should know about dental implant steps
You have to keep in mind a few things if you are considering dental implants. First, you need to be sure you are ready to commit a few months into the procedure. It's a big decision, take your time. Don't worry about the procedure itself. Most dental procedures are usually successful, and Dr. Uparika Sharma is an expert dentist for Dental implants procedure, so you are in good hands.
After the surgery, you may notice some bruising on your gums, swelling around your gums and face, some minor bleeding, and some pain at the implant site. 
A healthy (but soft) diet should be maintained during the weeks after your surgery to speed up the healing process. Soft foods such as Oatmeal, Scrambled eggs, Broiled fish etc. are the best choices after surgery.