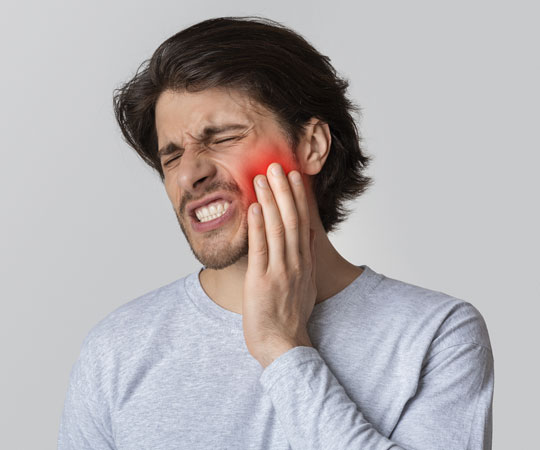 Emergency Care for Your Toothache
A toothache is persistent, disturbing pain in your tooth. It might occur with gum disease or an infected tooth. Most times, toothaches are not announced, and you may have a dental emergency. In an unexpected toothache, you may need emergency care to help with emergency toothache relief. 
It doesn't matter what the cause is. We have all the tips for some emergency steps you can take when you desperately need them for tooth pain relief. We are always here for you when you get a sudden toothache. Still, even before you rush ahead to meet a local Bellevue dentist for help, there are some steps that you can take on your own. These steps are effective and will make you feel better in no time.
How to stop a toothache with home remedies
Some home remedies are simple, quick, and effective. You can use them to decrease the discomfort you are feeling. 
The good thing about these home remedies is that you already have most of them at home. Either they are readily available at home, or they can be gotten cheaply at a nearby store. 
Some oral pain medications are there to kill the pain. Over-the-counter pain relievers like Ibuprofen can reduce the intense pain you are feeling. 

You can try putting a cold compress on the part of your face where you are feeling the pain for a few minutes. Cold compresses will help you feel less pain. Just don't leave it on your face for too long.

When you want to sleep, the toothache might not allow you. Try and sleep with your head propped up on a pile of pillows. Elevation helps to prevent the pressure that is caused when blood flows into the head and the mouth. This works whether you want to sleep or not.

Another great tip is to use medicated ointments to soothe the pain. There are numbing gels and ointments available that can numb the pain. You should check the labels to ensure it does not contain any ingredients that you may be allergic to.

Sometimes, a good old saltwater rinse water rinse is all you need. Saltwater contains antibacterial agents that can help reduce your inflammation. It protects your teeth from further damage too.

You may want to take it up a notch with a hydrogen peroxide rinse. If you have hydrogen peroxide lying around the house, mix it with equal parts of water. Use that solution to rinse your mouth thoroughly and spit it out.

Swishing your mouth with the solution can help to remove debris and reduce plaque.

A good swish with peppermint tea or even sucking on the bags has been proven to soothe toothache. The menthol in it is very effective in temporarily relieving the pain. 

Clove and garlic work well to ease toothache too. You can use the oil of clove in different ways. You can grind it into a paste to apply to the mouth or chew it and allow it to sit on the affected area. Garlic can simply be chewed.
Do not hesitate to seek emergency dental care
You can help yourself, but not in every case. If you realize that the problem is getting out of hand, please call us on 425-998-8109. As soon as you get to our clinic, we'll conduct tests to determine the exact cause of the problem.
We will also start treating the damaged tooth immediately after numbing it so that you feel less pain.
We are your go-to dental clinic if you need emergency care treatment or a temporary denture.