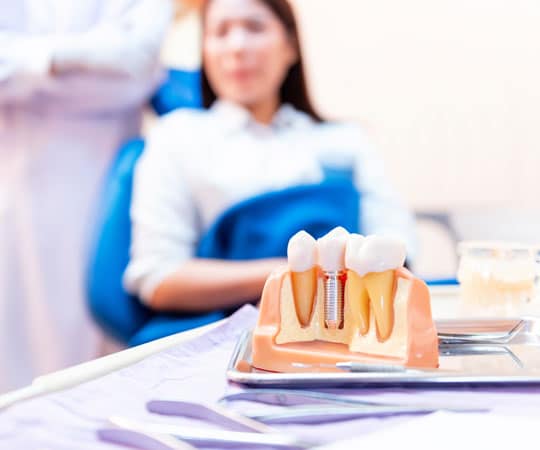 Dental Implants Are a Long-lasting Replacement for Missing Teeth
A dental implant is one of the most common treatments used by dentists to replace missing teeth. Dental implants are safe, long-lasting, and natural-looking tooth substitutes. We understand that missing teeth can be pretty problematic for a lot of patients. It can reduce some patients' abilities to speak or eat properly, which can damage their confidence. If you have missing teeth and want a safe solution that lasts long, you may want to consider getting dental implants.
Parts of a dental implant
A dental implant is made up of three main parts. They are:
Base
The base is the body of the implant embedded in your jawbone, serving as the replacement tooth roots. The dentist makes an incision during the implant procedure and then drills a hole into the patient's jaw. The base gives stability to the rest of the implant. When the base fuses with the jawbone, it is expected to withstand any amount of pressure or force.
Abutment 
The abutment is simply known as the part that connects the dental crown to the implant. It ensures that they are securely fitted. The abutment is usually attached after the patient's gum has healed from the initial phase of fixing the implant. Before the abutment is used to connect the base and the implant, your Bellevue Dentist will have to ensure that your gums have healed properly.
Dental crown
This is the part of the implant that is seen above the gum line. The dental crown is a fixture used to cap the implant and restore the tooth's full function. The dental crown is the part that you can see. With recent advancements in technology, dental crowns have been made out of material like ceramic to give them a very natural appearance.
Caring for dental implants
Getting a dental implant is only half the journey. Caring for dental implants is the second half. If you want your implants to last as long as they should, you need to take appropriate measures to ensure that they are well cared for. Proper oral care practices like brushing and flossing are necessary if you want your implants to stay functional for a very long time.
Brushing regularly at least twice a day with a regular soft toothbrush can help keep your implants clean and healthy. Take care to brush the implant gently and thoroughly, along with your natural teeth. Patients are also advised to floss at least once a day. Using interdental floss can make the process of removing debris easier. A water flosser can also be very useful in eliminating stuck pieces of food around the implant. 
If you currently have a missing tooth and you are searching for a long-lasting solution, you might want to consider getting dental implants. Contact us by calling 425-998-8109 to schedule an appointment with Dr. Uparika Sharma. Dr. Uparika Sharma is a leading dentist with years of experience using dental implants to replace missing teeth. When you visit us at Bellevue Azalea dentistry, we will be happy to set you off on the journey to excellent oral health.