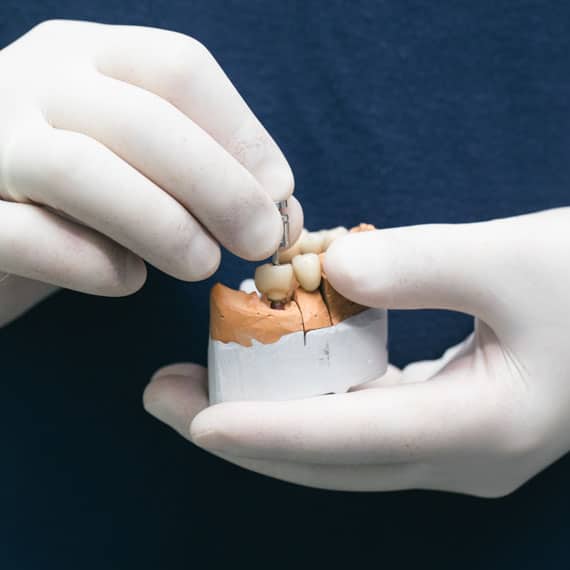 Options for Dental Implant Restoration After Damage
Dental implants are artificial tooth roots that are surgically screwed into the jawbone. Dental implant surgery might be an effective alternative to ill-fitting dentures or bridgework. However, dental implant restoration is always an option if your implants are broken. While implant cracks may appear insignificant, we advise you not to wear defective implants. This can result in extra stress and more severe health issues.
We can assist you with restoring your Dental implants. Visit our clinic to replace your damaged or missing teeth with artificial teeth. Dental implants appear and function similarly to natural teeth. While it is uncommon to break an implant, it may happen sometimes. Continue reading to learn about some techniques for restoring damaged implants.
Dental implant restoration is vital for people who have broken their implants. Implants are usually a preferred tooth replacement choice. They are surgically placed into the jawbone, which helps to reinforce the jawbone against tooth root loss. Dental implants are classified into two types:
Endosteal 
Endosteal implants are often shaped like tiny screws. They are composed of biocompatible materials like titanium. After surgically fitting deep into the jawbone, endosteal implants may act as tooth roots. A single endosteal implant may securely hold one or more teeth.
Subperiosteal
This type of implant is employed when there is insufficient strong jawbone to hold an endosteal implant. Subperiosteal implants are placed beneath the gum without being fitted into the jawbone. They are positioned on top of the bone rather than within it.
Your dentist may recommend dental implants if you:
May be missing a tooth or more

Possess a fully developed jawbone

Have enough bone to anchor the implants or are willing to undergo a bone transplant

Have strong oral tissues

Don't have any medical issues that will interfere with bone recovery

Would like to improve your smile

Are you willing to commit to the process for several months
When dental implants can damaged
When your implants are damaged, the first step to take is to phone or visit your dentist. We do not advise chewing on the implant or manipulating it to see if you can fix it by yourself. At Bellevue Azalea Dentistry, we can examine the damaged implant and provide the appropriate fix and treatment for you. Bring any damaged implant pieces with you to your visit. Repairing a damaged implant usually depends on the broken part – the implant, the abutment, or the crown. A common trigger of implant deterioration is an infection or a loss of the jawbone. Gum irritation, gum erosion, and swelling in the implant location are all symptoms of a damaged implant. The following is a list of the several choices accessible to dental patients who have damaged implants.
An implant is a component of the artificial tooth surgically implanted into the jawbone. When the implant itself is broken, the only way to restore it is to extract it and switch to a new implant. If there isn't enough jawbone to accommodate the insertion of the new implant, the dentist may recommend a bone graft. Implant restoration therapy is always an option for people suffering from implant complications.
The abutment is the section of the artificial tooth that connects to the implant. This connection enables the dentist to install the crown on the implant. This provides a permanent and healthy tooth replacement alternative. When an abutment is broken, it is usually due to a screw coming loose. Abutment replacement will fix the abutment, restoring the patient's implant to its original strength and stability.
A crown that has fallen out might result from an accident or abutment damage. Chewing hard food, such as chips or sweets, may cause crown damage. When an abutment is destroyed, a crown may slip out. The abutment that connects the implant to the crown is very tiny. Hence, anything from a fall to natural wear and tear might cause damage. When the abutment is damaged, the entire crown may usually be replaced.
Dental implants hold crowns, or prosthetic teeth, in place in the mouth. They are frequently inserted into the jawbone and act as the root of the prosthetic tooth. Given the increased success rate of implants, dental implant restoration may still be required. Although a chipped crown may be repaired quickly, a fractured abutment may necessitate the replacement of the crown. 
A loose implant is typically a problematic issue to repair and may necessitate the replacement of the whole implant. It is dependent on the degree of damage to know how the implant will be fixed. A dental implant installation operation might take many months. As a result, patients may need to prioritize adequate dental hygiene.
Frequently Asked Questions
How Long Does A Dental Restoration Process Take?
The dental implant restoration procedure can be time-consuming and involve up to four steps:
Unscrewing the old implant surgically
Applying a bone transplant to the jawbone
Installing fresh implants surgically
Restoring the missing teeth
The recovery period between each phase can be lengthy, especially for individuals who require a bone graft. Because of the time and money needed to repair a loose implant, it is critical to evaluate the entire mouth before proceeding carefully. A problem with the gums or another tooth might cause bone degeneration and implant complications.
Does A Loose Dental Implant Require A Replacement?

Yes. When a dental implant becomes loose, a new implant may be required. Although dental implants have a high success rate, there is always a problem. A loose dental implant is one of the issues that dentists encounter. This problem occurs when the implant does not entirely integrate with the jawbone. Also, the implant might become unstable with time if the bonding phase is not finished when the crown is attached. Furthermore, because a robust and healthy jawbone is required for a secure implant, jawbone erosion might cause an implant to become unsecured.