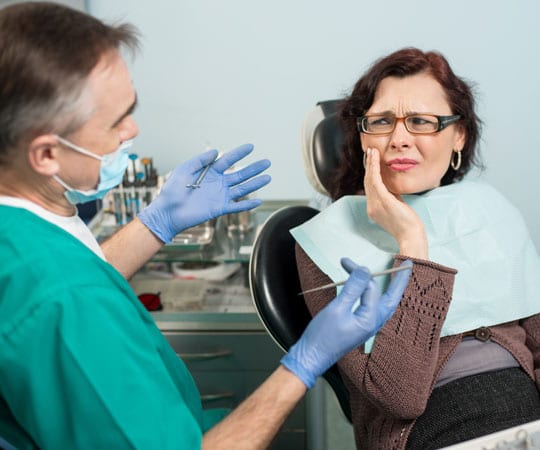 Reasons to Not Visit Dental Emergencies
Dental emergencies can be quite frightening, and most people go to the emergency room because they think that is the best and only option for them. When you have dental emergencies, it is better to receive emergency dental care from an emergency dentist.
There's a difference between injuries that threaten your life and injuries that don't. If your dental emergency is life-threatening, the doctor in the emergency would be the best to attend to you.
If your dental injuries are not life-threatening, an emergency dentist is better suited to handle your case.
ER does not perform dental procedures
Visiting the emergency room for emergency dental care is not the best because emergency room nurses and doctors are not trained on how to treat dental complications such as loose teeth, knocked out teeth, and gum tissue injuries. They are only trained to provide temporary pain relief until an emergency dentist can attend to you and treat the actual cause of the injuries and pain. An emergency dentist will speedily provide quality oral care for you to experience reduced pain and swelling.
emergency dentists may help in pain relief
Emergency dentists have been in the business of treating dental issues for a long time. These years of experience help them diagnose the problem faster and more easily than the doctors at the emergency room. Without an effective diagnosis, there's no way the dental emergency you have would be properly treated. ER doctors can try to manage the pain, but they won't be able to do it as well as an emergency dentist who knows the real cause of the dental pain and how best to treat it.
Emergency dentists can save damaged or missing teeth
If you have an infection, cavity, or disease that caused your teeth to fall out, please visit the emergency dentist as soon as possible. The dentist can save your missing or damaged teeth if you act fast. An ER doctor, on the other hand, might not know how to handle these issues.
importance of dental emergency prevention
Prevention of dental emergencies can help save you from pain, stress, and the cost of treating it. Try as much as possible to prevent trauma to your teeth. Your risk of having dental trauma can be greatly reduced when you wear a mouthguard during sports or other physical activities. A night guard can also be used when you want to sleep if you find that you often involuntarily grind your teeth. Practicing good oral hygiene like brushing and flossing regularly is also a great way to protect your teeth and prevent dental emergencies. If you are fond of consuming foods that are high in sugar or alcohol, try to cut down on that too. No matter how skilled your emergency dentist is, prevention will always be better than cure. In the case where you've done what you can to prevent a dental emergency, and it still happens, please visit the emergency dentist promptly so that you can receive the best professional care.
Arrange a visit with our emergency dental care team
The entire emergency dental care team led by Dr. Uparika Sharma will provide quality, speedy and effective dental emergency care to you as soon as you walk in. The team has been expertly trained on how best to handle dental emergencies. You can come to us fully assured that we will handle your case in the best way possible.
Please call us at 425-998-8109 to arrange a visit with our emergency dental care team or ask any questions and discuss any concerns you may have.