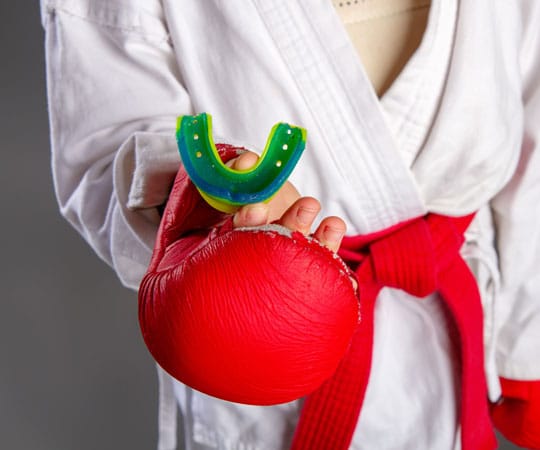 Why Athletes Should Get Custom Mouth Guards
Mouth-guards are essential for many professional athletes because they provide safety. There is a range of sports where even amateur athletes and children need this protective equipment. While multiple mouthguards such as ready-made (stock) and mouth-formed (boil and bite) are available in the market, most professionals and dentists recommend using a custom mouth-guard.
Wearing a mouth-guard brings many advantages, and they increase if you opt for a custom-made one while playing contact sports.
The Benefits of Custom Options
The universal mouth guards can be easy to buy and inexpensive. But the fact of the matter is that they don't play the same role in protecting your teeth as a custom mouthguard does. You should schedule an appointment and consult with your dental professional to find the best custom option for mouth guards that properly matches your level of activity, associated risk, and health needs. Here are some of the most common benefits of wearing a custom-made mouthguard.
Improved Fit and Comfort
A custom mouthguard is created after taking the actual teeth model of the wearer. The model is usually obtained by digital scanning the jaw and mouth to make sure that it fits properly and securely in place. Resultantly, a custom-made guard stays in its position throughout the session. On the other hand, the standard mouthguards are more likely to slide and slip, which causes discomfort and distraction. With time, it can lead to lingering pains and related oral issues.
Proper Protection
As mentioned, the customized mouth guards will stay put and can offer more efficient functionality. A stable position and proper fit allow this protective equipment to withstand possible impacts more effectively. Moreover, it's also possible to get a customized mouthguard made of high-quality and durable materials.
Whether you play football or any other sport, a custom-made mouthguard will offer proper safety for a longer period because of the combination of multiple advantages.
Appropriate Thickness
After evaluating the precise activity for which you require the mouthguard, the thickness of the material used to make a customized guard is chosen. An individual who is a boxer, for instance, needs a thicker material than a tennis or football player. The reason is that boxing is more likely to affect the mouth than tennis.
We recommend you consult with your dentist to ensure that your mouthguard offers proper protection for various sports you participate in. According to NCBI, by far the most commonly used material for mouthguards is ethylene-vinyl acetate.
Caring for Your Mouthguards
It's important to rinse and clean mouthguards before and after using them to expand their lifespan. You can also use toothpaste and a toothbrush to clean your mouthguards. Not only will it prolong their lifespan, but it'll also keep you from harmful germs that can cause oral diseases.
You should never leave your mouth guards in hot water or the sun, and it's also important to use safe containers with ventilation for transportation. Moreover, you should also check them regularly for wear and tear and consider replacing them if necessary.
Using retainers or other removable appliances with your mouthguard is not advisable to achieve the best results. We also advise you to visit your dentist for regular check-ups, especially before and after the playing session.
Sports that Require Mouth Guard Protection
Investing in a mouthguard is very important to keep yourself from a dental injury. Whether you wear a boil and bite, stock, or any other athletic mouthguard, it'll help you a great deal. But a Dentist in Bellevue recommends you wear a custom-fit mouthguard uniquely designed for you. Using them is especially critical if you participate in any sport where collision, contact, and impact are likely to happen.
Sports in which athletes should wear a mouthguard are:
Ice and field hockey
Wrestling, Martial Arts
Water polo
Soccer, Rugby, Handball etc
Football
Boxing
Basketball
Bicycling
Baseball
Gymnastics
Volleyball
Skiing
Surfing
lacrosse
Common Dental Injuries Among Athletes
People who participate in high-contact or intense sports are more likely to experience tooth loss, cracks, or chips. According to NCBI, wearing an athletic mouth guard can decrease mouth injury risk by up to 80 percent. That's because a custom-fit mouthguard covers all your teeth and offers a perfect fit that cushions your jaw. The injuries related to teeth are mainly categorized into three types.
Luxation Injury
The tooth remains in its socket but in a wrong position
A single tooth appears longer than others, known as extruded tooth
Teeth pulled forward or pushed back, known as lateral displacement
Avulsion Injury
In this case, the tooth, along with the root, was knocked out
Fracture Injury
It can also be called chipped, broken, or fractured teeth.
In any case, you must visit the dentist as soon as possible. You can also visit Bellevue azalea dentistry, where you'll be welcomed by our expert dentist, Dr. Uparika Sharma, to perform dental work.
Mouthguards are vital for athletes to protect against serious oral injuries for many popular sports. Although the requirements of each athlete are unique, most patients can benefit from a customized mouthguard. When selecting your mouthguard, a dental professional can provide the best assistance. So, if you need a custom-fit mouthguard for your child, or yourself, then consult with our professional dentists today.