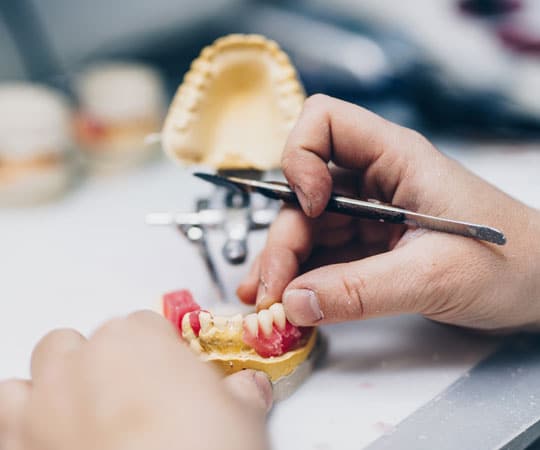 Implant Supported Dentures: Pros and Cons
Just when you think there's no more hope for patients who have lost all their teeth, an exceptional invention pops up called the implant-supported denture. These dentures have been praised by many for being an effective way to replace the missing teeth of both the top and bottom parts of the mouth. Implant-supported dentures are an amazing appliance, but you need to have an idea of what it entails before you make a move to get dentures. You can have your smile transformed with these implant-supported dentures, but first, let's see the options available for you to choose from. Implant-supported dentures are the lovechild of dentures and implants. They are a fusion of the features of both dentures and implants. They consist of titanium screws implanted into the jawbone with a unique set of dentures attached to them.
Types of implant-supported dentures
There are two major types of implant-supported dentures. They are temporary and permanent dentures.
Temporary
As the name implies, these are removable dentures. They can be detached from the implant posts and reattached when the patient pleases. Temporary dentures are quite affordable, but the downside is that they tend to get worn out faster.
Permanent
Permanent dentures are custom-made to be fixed onto the implant posts. The patient isn't free to remove them, and the dentist can only remove them. Unlike temporary dentures, permanent dentures are only meant to be removed when it is time for routine maintenance and repair.
Pros of implant-supported dentures
Implant-supported dentures have a lot of advantages that make patients love them. Some of the benefits of implant-supported dentures are:
Strength
Implant-supported dentures are fixed onto the implant posts. This gives them the strength to be able to withstand the force that comes with chewing food. They are designed to be very strong so that they can be used just like any normal set of teeth. Gum-supported dentures aren't so strong, and that is why there are a lot of dietary restrictions involved when using them.
Stability
Implant-supported dentures are quite stable, and this is because they have been fixed onto implant posts that contribute stability and support. Implant-supported dentures are less likely to get loosed, unlike the traditional dentures, which are not as stable.
Implant-supported dentures were made to last for a couple of years, which can range from five to eight, but you should still prevent any sort of occurrence that will shorten this lifespan. If you've had any trauma to the dentures, it would be better for you to check it out.  
Cons of implant-supported dentures
Implant-supported dentures are fantastic, but there may still be a few things you might not be comfortable with.
Snap-on dentures can wear out quickly
The materials used to make snap-on dentures are created to last for a reasonable amount of time. Sometimes, the snap-on dentures tend to wear out, and when this happens, they cannot be used by the patient for an extended period.
They are more costly than traditional dentures
The cost of implant-supported dentures is more when compared to traditional dentures. This cost is understandable because implant-supported has more benefits and uses more advanced technology.
Jawbone density is required
To be qualified to get implant-supported dentures, one of the most important requirements is that your jawbone is dense enough to hold the implant in place. Most times, the jaw bone might not be strong or dense enough. In that case, a bone grafting procedure may be needed before the implant-supported dentures are fixed.
Implant-supported dentures can transform your smile
Dr. Uparika Sharma has seen the joy in the faces of patients who are pleased with how effective these dentures are. You can be one of them too. Visit us in Bellevue and find out how you can get that beautiful smile you've always wanted.
You can also call us at 425-998-8109 if you want more clarification or answers to your questions.